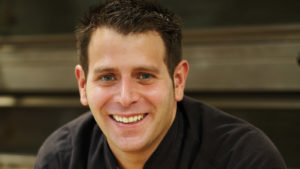 I was born in New Jersey but I've been raised in Italy, in particular in Avellino, a small town in Campania.
Even if he was a Computer Engineer, my dad has always had a strong passion for the farm, so I grew up with a deep love for the Mother Nature and all the products she can give us.
Everything you can name, my family had it during the right season, from chestnuts to eggplants, from hazelnuts to tomatoes, all the fresh herbs, vegetables and fruits. Also we used to raise chickens and rabbits , and make our own wine, aglianico and falanghina, and we also produced extra virgin olive oil.
If you love nature, it was heaven on earth, you would say.
If you love food, today they call it Km 0 or BIO cuisine.
Of course, it comes with a lot of hard work, dedication and sacrifice, so I used to spend every summer, Saturdays and Sundays helping my family in the farm.
This how you learn how to treat and respect the ingredients you use for your recipes.
So you know when it is the right time to have and use them, and how real food is supposed to taste like.
At the beginning, I remember I did not appreciate this life so much because I did not understand the real value I had in my bare hands, in the end I was only a boy that also didn't like school so much.
So, probably to teach me a lesson, my father found for me a first job during the summer time at my uncle's restaurant: I was only 13 years old at that time.
This was the beginning of a Love.
I don't know why, but there was something in that world that fascinated me a lot: the late night time, the adrenaline in the Kitchen and the tension during the service.
So, after that summer, I decided that was my path.
I was eager to learn and I chose the Culinary school where I graduated with the highest vote.
Also I decided to keep learning on the fields so during weekends and school breaks I worked in several different local restaurants where I learned all the fundamentals and the basic of the regional cuisine, how to transform the simple ingredients into amazing and tasty plates.
Passion, stubbornness and commitment led me to the Haute Cuisine.
I started my adventure in the 5 stars hotels and lived and got involved with different kind of cuisine and techniques. Rome, Tuscany, London, Prague… All of these experiences found a soft spot in my heart.
At the age of 25 years old I became a Sous Chef in the first Michelin-Starred Restaurant of the entire East Europe.
But I wanted more, I looked at the other side of the world and here it was the USA, my native country where I always dreamed to go back and live.
At 26 years old, I was the youngest Head Chef on the Strip of Las Vegas, a city full of lights that gave me the opportunity to shine for 10 years. And it is in Vegas that I married my wife, Carmen, like in a movie on a pink Cadillac at the Little White Chapel and few years later we added as a family another little star to the Vegas sky, our daughter Francesca.
From the desert of Nevada to the white sand of Florida, from the West to the East coast, as Executive Chef of a Luxury resort.
Many places, many friends and so much food but I've never forgotten my Italian roots.
Today, I want to give my knowledge and my passion for the kitchen to all the folks who love Italian food, the real Italian food, and dream to be ambassadors of the authentic Italian cuisine in the world.